The 56th Convocation of the COMSATS Institute of Information Technology (CIIT) was held on October 4, 2013, at its Sahiwal Campus awarding degrees to 160 students from Sahiwal and Vehari campuses. The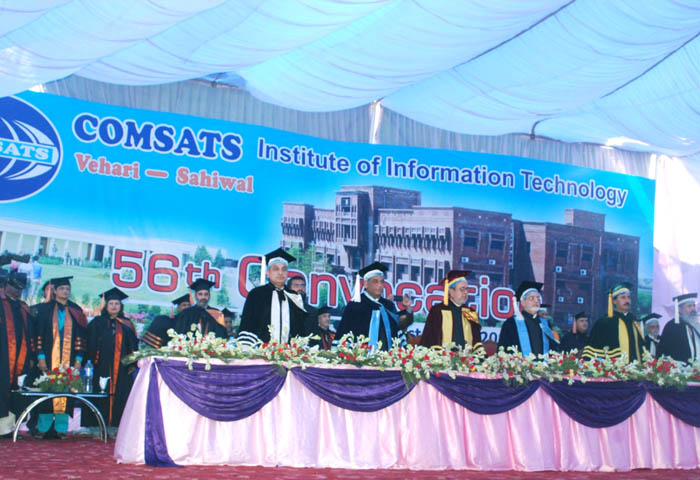 Secretary Education, Government of Punjab, Mr. Khawaja Farhan Aziz, graced the occasion as the chief guest. Mr. Aziz was representing the Minister for Education, Sports, Archaeology, Tourism, and Youth Affairs, Government of Punjab, Mr. Rana Mashhood Ahmad Khan. The Executive Director COMSATS and Chairman Board of Governors CIIT, Dr. Imtinan Elahi Qureshi also attended the ceremony as the Guest of Honor.
The Director of CIIT Sahiwal Campus, Prof. Dr. Abdul Waheed, welcomed the participants and expressed his pleasure over the success made by his Campus in just six years of its existence. He noted that the Campus offers 16 under-graduate and 4 post-graduate programmes; has current student strength of 2,400 in 6 departments; and 108 faculty members, among which 35 hold PhDs. So far, around 700 students have graduated from the Campus. He noted the benefits students can gain from the Career Development Cell (CDC) and participation in extra-curricular activities. He also informed the audience about the future development plans of his Campus, which include establishment of School of Entrepreneurship and Export Promotion; Centre of Excellence in Islamic Microfinance; Humanities Department; Food Technology Department; School of Automobile Engineering; Centre of Excellence in Renewable Energy; Industrial Engineering Department and National Centre for Prototyping and Rapid Manufacturing; and Centre of Excellence in Computer Science & Information Technology.
After the convocation, the Executive Director COMSATS, Dr. Imtinan Elahi Qureshi, inaugurated a fully equipped Computer Lab consisting of 60 computers at CIIT Sahiwal campus. He also visited various departments and facilities of the Campus.