The 4th International Conference on 'Agriculture, Food Security, and B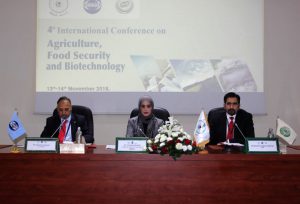 iotechnology' was successfully held in Rabat, Morocco, on 13th – 14th November 2018. The Conference was hosted by the Islamic Educational, Scientific and Cultural Organization (ISESCO) and co-organized by Commission on Science and Technology for Sustainable Development in the South (COMSATS), and the Inter Islamic Network on Information Technology (INIT), Islamabad, Pakistan.
COMSATS' Centres of Excellence represented during the Conference included: Tianjin Institute of Industrial Biotechnology (TIB), China; Al-Farabi Kazakh National University (KazNU), Kazakhstan; National Mathematical Centre (NMC), Nigeria; Industrial Technology Institute (ITI), Sri Lanka; and Industrial Research and Consultancy Centre (IRCC), Sudan. Around 50 researchers and subject experts from Algeria, Burkina Faso, Cameroon, Indonesia, Kazakhstan, Morocco, Nigeria, Senegal, Sri Lanka, Sudan, Tunisia and Turkey participated in the Conference.
The Conference was inaugurated by Dr. Amina Al Hajri, Deputy Director General, ISESCO, on 13th November 2018. Speaking on the inaugural, Dr. Hajri stated that attainment of food security is becoming increasingly challenging due to rapid population growth, effects of climate change, slowdown of agriculture production, social conflicts, as well as demographic and economic factors. She considered the Conference an important platform for sharing of knowledge, and promoting interaction between academicians, scientists and researchers.
In his message read out by Mr. Tajammul Hussain, Advisor (Programmes), COMSATS Secretariat, Dr. S.M. Junaid Zaidi, Executive Director COMSATS, noted that food security threats are more pronounced in the developing countries where more than 80% of the world's population lives. He opined that under the "2030 Agenda for Sustainable Development" developing countries can build partnerships with the developed ones to achieve sustainability in every aspect.
Speaking on the occasion on behalf of Executive Director, INIT, Mr. Atiq-u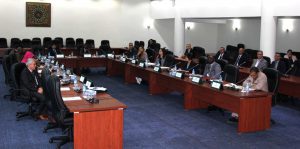 r-Rehman, Senior Programme Officer, INIT, stated that in this digital era, the role of IT in agriculture, food security and biotechnology becomes important even more. He opined that IT can reduce the gap between agricultural community, bio-technologists, governmental and non-governmental organisations thereby leading to developing a much-needed synergy.
The two-day Conference consisted of four technical sessions framed on the following themes: Agriculture: Challenges, Perspective and Opportunities in the Islamic World; Food Security: Strategy and Dynamics in the Context of SDGs; Biotechnologies and Their Application: State of the Art and Perspectives in Islamic Countries; and Precision Agriculture/ Satellite Farming and New Applied Technologies.
The presentations made during the various technical sessions covered a range of topics which, inter alia, included advancements in crop improvement in dry-land food production; effect of environment on the properties of Sudanese bread wheat; impacts of irrigation and unstable grain markets on food security; phytoremediation potentials of sunflower on contaminated soils; and use of precision agriculture for improving sustainability. Active discussions and deliberations during the sessions promoted exchange of ideas and knowledge sharing among the participants.
In addition, a set of recommendations was made during the panel discussion on "What is the inequality between Agriculture, Food Security and Biotechnology for a better Muslim world?" These recommendations pertaining practices; landscape and territories; products; stakeholders; and advocacy were adopted after deliberations and insights. A working group was also created to implement the decisions underlying these recommendations. It was also agreed that the afore-mentioned group will work to ensure the sharing of good practices and lessons among COMSATS and ISESCO Member States as well as in OIC countries.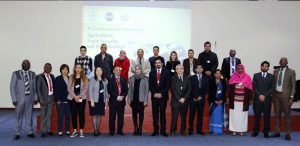 During the closing ceremony held on 14th November 2018, certificates were distributed among the speakers and participants. The Conference ended with a vote of thanks from Mr. Tajammul Hussain and Mr. Atiq-ur-Rehman.