The COMSATS Institute of Information Technology (CIIT) in associ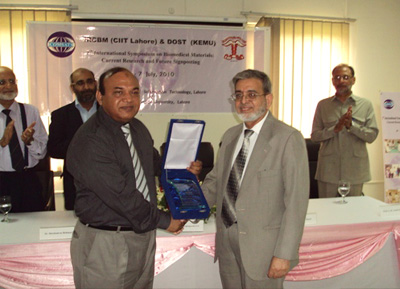 ation with the Department of Orthopaedic Surgery and Traumatology (Mayo Hospital, King Edward Medical University (KEMU), Lahore) organized the subject symposium on July 6-7, 2010. The participants of this multidisciplinary field comprised of surgeons, biologists, material scientists, chemists, physicist and implant manufacturers.
The papers presented on this occasion consisted of a widevariety of subjects, such as; nanotechnology-advanced materials interface, bi-metal clad wave guided bio-sensors, novel classes of anti-viral and anti-cancer agents, biosensors based on microbes, stem-cell technology, porous bio-ceramics, novel biomaterials, glass ionomer dental nano-composites, etc.
The Interdisciplinary Research Centre in Biomedical Materials (IRCBM) established by CIIT in 2008 is a pioneer institution in this field. The Director IRCBM informed the audience that Pakistan is in dire need of a local industry for bio-implants, since the cost of imported items is not affordable for many Pakistanis. The devastating earthquake in 2005 resulted in 80,000 limb amputations, most of which could have been avoided if plentiful and inexpensive implants were available.
While inaugurating the symposium, the Executive Director CO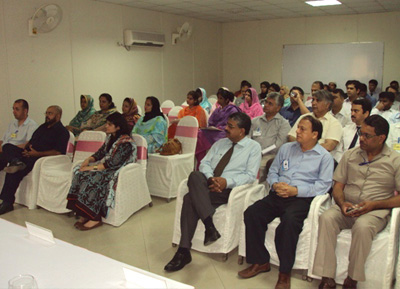 MSATS praised the research-work being conducted at IRCBM under the leadership of Dr. Ihtesham-ur-Rehman and Dr. Rafaqat Hussain. Recounting the benefits emerging from cross-disciplinary interactions, he noted that medical imaging has been making phenomenal impact on Medicare through collaboration of physicists, since the days of X-ray discovery. He hoped that CIIT would also focus on other frontier areas of biology, such as bioinformatics and quantitative Biology.
Dr. Qureshi also informed the participants about the latest academic developments taking place in CIIT and its parent organization, the Commission on Science and Technology for Sustainable Development in the South (COMSATS). A visit of the Executive Director to the IRCMB laboratories was also conducted after the inauguration ceremony.