The 2nd International Conference on Agriculture, Food Security, and Biotechnology was held from October 17-18, 2016, in Khartoum, Sudan. The Conference was organized by COMSATS in collaboration with Islamic Educational, Scientific, and Cultural Organization (ISESCO), University of Khartoum, the Industrial Research and Consultancy Centre (IRCC), Sudan, under the patronage oftheMinistry of Higher Education and Scientific Research (MoHESR), Government of Sudan. Researchers and subject experts from Egypt, Iran, Oman, Pakistan, Senegal, and Sudan contributed to the two-day conference as speakers, which also had representation of a large number of local participants and organizations.
| | | |
| --- | --- | --- |
| | | |
The objective of the conference was to provide a forum to scientists, researchers, technologists and faculty members of higher education institutions to share their experiences and recent developments in the field of agriculture and biotechnology, and examine from a scientific point of view the need to increase the global availability of, and access to food in a sustainable way. With 32 speakers representing national governments, international organizations, industry, NGOs, universities and research institutes, the Conference focused on key questions relating to food security, with regard to how biotechnology could contribute to ensuring food for all. The conference attracted over 300 participants.
The inaugural ceremony of the Conference was held at the Grand Hall of Ministry of Higher Education and Scientific Research (MoHESR), Government of Sudan. The Honourable Minister for Higher Education and Scientific Research, H.E. Prof. Somaia Abukashawa, inaugurated the Conference as the chief guest. Other distinguished guests at the ceremony included Sudanese government officials: H.E. Mr. Yagoub Mohamed Altaib, State Minister at the Ministry of Agriculture & Forestry; H.E. Mr. BaharIdris Abu Garda, Federal Minister of Health;and Prof. Azhari Omer Abdelbagi, Undersecretary MoHESR. Prof. Ahmed Hassan Fahal, University of Khartoum, Dr. Widad H. AbdelHalim, Director General IRCC, Sudan, Dr. Ismail Abdel-Hamid, Expert, Science Directorate, ISESCO, and Ms. HumaBalouch, Sr. Assistant Director COMSATS were also present on the occasion.
| | | |
| --- | --- | --- |
| | | |
Opening the conference, Prof. Fahal categorized food security as one ofthe most important challenges faced by the humanity, and involves much more than agriculture. It has had a significant bearing on other important Millennium Development Goals (MDGs), including those relating to child mortality, maternal health and basic education.
H.E. Prof. Somaia urged the participating researchers to take on revolutionary roles to promote modern agricultural systems in Sudan. She stressed the importance of increasing production through research in biotechnology to ensure food security in the country.
Focusing on the role of science and technology, H.E. Dr. Abdallah noted that science and technology had contributed greatly to addressing the agricultural needs of growing populations in Asia and Latin America, but such revolutionary changes did not benefit Africa. The answer to Africa's food security challenges lay in improving agricultural productivity, especially by the regions' smallholders. Using biotechnological applications would makean important contribution towardsimproving productivity, with due consideration towards other crucial factors.
| | | |
| --- | --- | --- |
| | | |
Dr. Widad H. AbelHalim said that the world population can live sustainablyby recognizing the intimate relationship between food, water, energy and climate change.Prof. Azhari deliberated on the scope of and opportunities in agricultural biotechnology, especially in developing countries. He mentioned biotechnology as the key technology of the 21st century. It provides new solutions forissues related to nutrition, agricultural productivity, fine chemicals and bio-based plastics.
Dr. Ismail Abdel-Hamid, Expert Science, ISESCO, stated that the conference would serve as a small step on a long journey towards ensuring food for all. He assured the participants that the activities of ISESCO and COMSATS would be focused on closely reflecting the conclusions of the Conference and on identifying, as carefully as possible, the critical areas where Islamic Countries could make its most significant contribution to food security in the future. In her address, Ms. Huma Balouch mentioned that adoption of new technologies in agriculture is extremely important to address the ever increasing population of developing countries, where more than 70% of the world's poor live and more than half of the population is faced with food scarcity. She stated that this Conference would enhance the capabilities of participating scientists in assessing the emerging sustainable agriculture and food security challenges, particularly in South, and the modern biotechnology related approaches to meet these challenges, at national, regional and international levels.
The Conference programme consisted of five technical sessions and one keynote session. Two keynote presentations were made by Prof. Dr. Abd Allah Ahmed Abd Allah, currently affiliated with the University of Khartoum and former Minister of Agriculture, Food and Natural Resources, as well as Mr. Wagdy Merghani, Chief Executive Officer, Mahgoub Group, Sudan. The topics covered during this session included an overview of Agricultural Sustainable Development, and assessing Sudan's export diversification potential in agricultural products.
The intellectual contributions made during the event covered a wide range of topic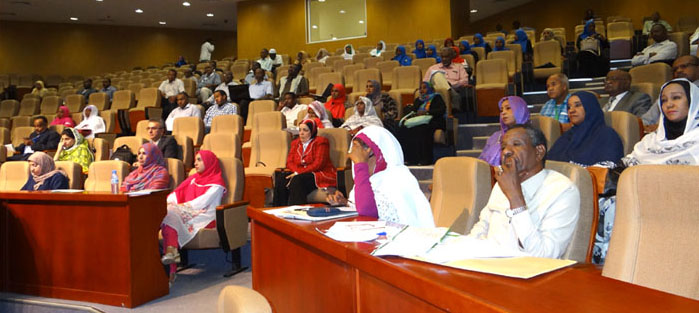 s. Major emphasis was laid on understanding and assessing the relevance of biotechnology across a range of life sciences, with regard to crop improvement. A number of speakers revealed the importance of assessing the information needs of farmers in order to address major scientific and related socio-cultural issues. The sessions included active discussions thatencouraged information and idea sharingand laid grounds for future cooperation among the participants and their institutions.
The Conference focused on the following themes: food production and food security; pest and disease control using biotechnological approaches; improving agricultural productivity through enhanced resource use efficiency (Genetically Modified Crops); climate-change impacts, adaptation, vulnerability for crops and post-harvest components of food systems; metrics for measuring food security across local and regional contexts;reducing post-harvest losses and contaminations; and food loss and waste management.
Draft recommendations were presented during the concluding ceremony, presented for open discussion. These were adopted with changes and suggestions made during the discussion. The conference ended with a vote of thanks by COMSATS' representative.