The first meeting of the Steering Committee for the organization of the 2nd Commission meeting was held under the Chairmanship of Minister for Science and Te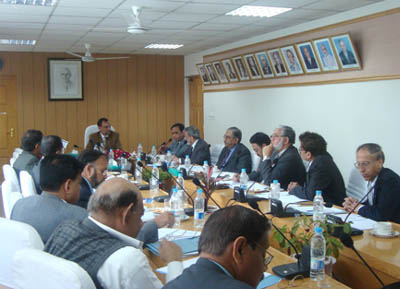 chnology, Mr. Muhammad Azam Khan Swati on 6th April 2009 at Pakistan Council for Scientific and Industrial Research. The meeting deliberated on the organizational aspects of 2nd Commission meeting to be held in April 2010. Besides the Special Advisor to the Prime Minister on Social Sector, Federal Secretary MoST and Executive Director COMSATS, the meeting was attended by senior officials from the ministries of Foreign Affairs, Interior, Finance and other relevant departments.
The Chairman regarded COMSATS' Commission meeting a challenging task for Pakistan and hoped that substantial inputs will be provided by all the participants. It was urged that, in order to convert this challenge into an opportunity, the Committee should take timely decisions on administrative and other relevant issues. The objective of the meeting was to provide policy guidelines and institutional frame-work of sub-committees for undertaking different arrangements in connection with the organization of the 2nd Commission Meeting. The sub-committees pertinent to: administrative and financial matters; documentation and printing; protocol; security; logistics; media coverage, and health care and emergencies etc., were constituted along with the designation of their conveners. The sub-committees, having worked out a definite budget and terms of reference for their undertakings, would submit preliminary reports in the next Steering Committee meeting, expected to be held in May 2009. The meeting concluded on a hopeful note for timely and appropriate preparations ensuring the maximum participation of COMSATS' international community, befitting this event.