COMSATS joins hands with its Centre of Excellence in Karachi – ICCBS and OIC Ministerial Standing Committee on Scientific and Technological Cooperation (COMSTECH) to hold 15th International Symposium on Natural Product Chemistry under the 2020-2021 cooperation framework with UNESCO.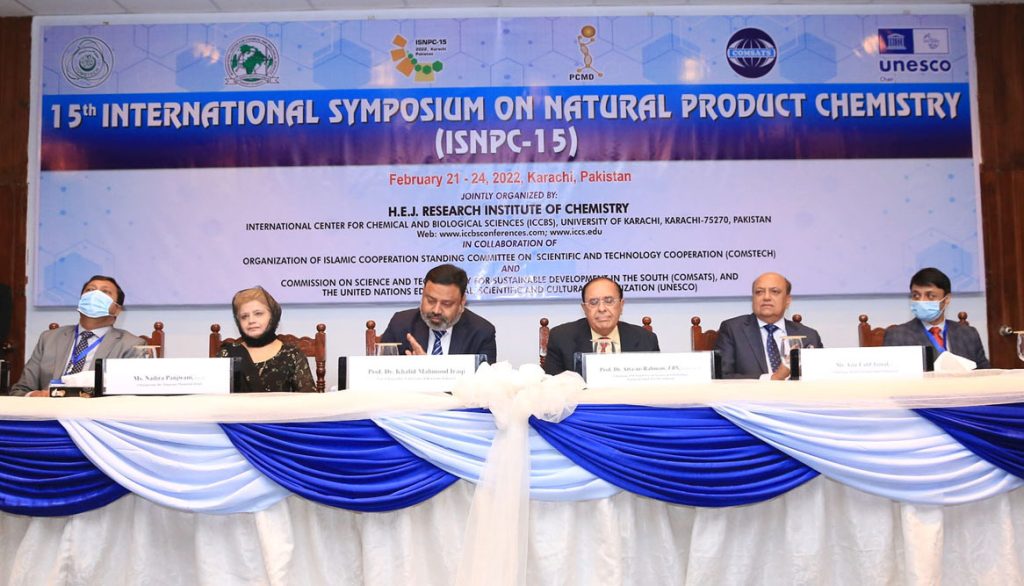 Under the framework of COMSATS-UNESCO Technical Cooperation Programme 2020-2021, COMSATS collaborated with the International Centre for Chemical and Biological Sciences (ICCBS), Karachi; Ministerial Standing Committee on Scientific and Technological Cooperation of the OIC (Organization of Islamic Cooperation) (COMSTECH), and the United Nations Educational, Scientific, and Cultural Organization (UNESCO) to organize 15th International Symposium on Natural Product Chemistry (ISNPC-15). The four-day long event opened on 21st February 2022 in a formal ceremony hosted by and at ICCBS.
Opening the event, Prof. Dr. M. Iqbal Choudhary, Director ICCBS, remarked that the S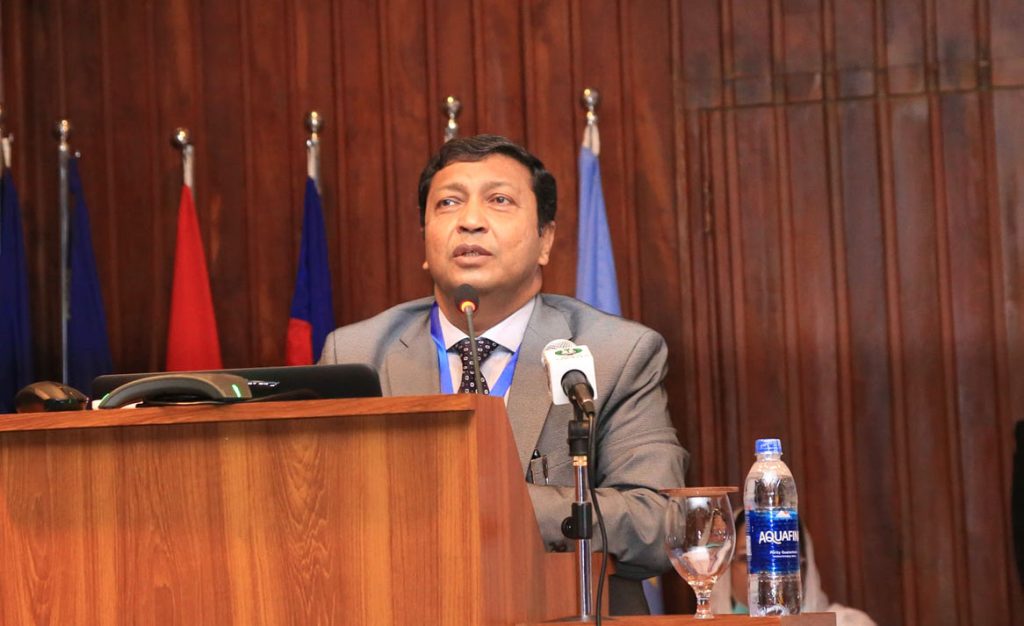 ymposium has provided a networking platform to help inspire ideas that may culminate in novel projects and initiatives aimed at advancing the understanding and implementation of natural product chemistry in the region. He also shared recent achievements of ICCBS that illustrate the quality and breadth of Centre's basic, translational and clinical research and future work. Despite the pandemic-associated challenges in the past two years, Prof. Iqbal noted that ICCBS has undergone phenomenon growth in natural product science, such as identifying new enzymes based on natural product and their commercial production for leather industry, clinical trial of first prospective drug from Pakistan for the treatment of epilepsy and other central nervous system disorders, and developing new herbal products for the prevention and treatment of Parkinson's Disease. He also acknowledged the support of COMSATS, UNESCO and other partner organizations.
Speaking on the occasion, Prof. Dr. Atta-ur-Rahman, Patron-in-Chief of ICCBS, and Chairman of ISNPC-15 remarked that "the practice of natural product science is increasing worldwide, and there is great advancement being achieved in all regions of the world … this Symposium promises to be a great forum to network and build strong collaborations within the community and related discipline".
In her remarks, Ms. Nadira Panjwani, Chairperson of Dr. Panjwani Memorial Trust, considered Natural product drug discovery as a potential solution to many of today's challenges in agriculture, pharmaceuticals, energy, environmental conservation, healthcare and medicine. She hoped that ICCBS will play a key role in the future of drug discovery based on natural products, and the collaboration with leading international research institutions and industrial sector will accelerate discovery of medicines to meet the pressing needs in therapeutic areas.
In his remarks on the occasion, Mr. Aziz Latif Jamal, Chairman of Husein Ebrahim Jamal Foundation, stated that ICCBS is playing an increasingly important role in discovering endemic resources by bioprospecting for useful natural products. He informed that the Centre was established to cement prospects of in-depth exchange and cooperation between Pakistan and other countries, as well as to promote technological progress and industrial development in pharmacological screening of natural products.
In his video message, Prof. Dr. M. Ashraf Shaalan, Chairperson COMSATS Coordinating Council, underlined the importance of natural products chemistry in advancement of physical and biological sciences, its interdisciplinary domains, and development of novel applications. He emphasized that the scientific and technological progress in the area of natural product chemistry and the prominent role it played in scaling-up bio-industrial technologies strongly led to economic gains and would continue to affect the economic scenario even more deeply in the coming years.
In her video recorded message, Ms. Patricia McPhillips, UNESCO Representative in Pakistan, opined that the progress and development of various nations around the world is inextricably linked to the resources they employ. She stated that the global scenario implies that North-South and South-South cooperation is vital for strengthening the technological capacity, capabilities, and sustainability of developing countries.
In his remarks on the occasion, Prof. Dr. Khalid M. Iraqi, Vice Chancellor of the University of Karachi, lauded the efforts of Prof. Dr. Atta-ur-Rahman and Prof. Dr. Iqbal Choudhary for organizing the event, and hoped that the Symposium will provide an excellent opportunity for the participating scientists to promote regional collaboration and linkages in the field of natural product chemistry.
Prof. Dr. Atta-ur-Rahman also delivered the inaugural lecture, entitled "Some Adventures in Natural Product Chemistry and Higher Education". His lecture highlighted new concepts pertaining to novel possibilities in the field of natural product chemistry, such as development and synthesis of new therapeutic molecules, development of new approaches and methodologies for creating /enhancing the structural variation of natural products, and identification of new materials with novel properties. He underlined the need to align knowledge creation and technological innovation with real-world problems which require a dynamic interaction between the government, industry, and universities/research centres.
The technical undertakings of the Symposium were organized into 14 plenary and parallel invited lectures, delivered by more than 60 internationally recognized foreign speakers from academia and industry. More than 200 papers on multidisciplinary topics were presented, including oral and poster presentations. The forum combined several modes, including online and offline/physical conferencing and cloud livestreaming to meet the COVID-19 prevention and control requirements. The symposium attracted an audience of 300 active researchers from universities and public and private entities. The event was joined physically and virtually by individuals from 21 countries, including Azerbaijan, Bangladesh, Burkina Faso, Cameroon, Canada, China, Egypt, Germany, Greece, Iran, Iraq, Kazakhstan, Nepal, Nigeria, Pakistan, S ri Lanka, Sudan, Sweden, Turkey, United Kingdom, and USA.
The Natural Product Chemistry Symposium is a flagship event of ICCBS for the early-career researchers, scientists, academicians, as well as members of scientific excellence centres and companies involved in pharmaceutical, biotech, health-tech, and natural product research. The first meeting of this internationally renowned symposium was held in Karachi in 1985, and since then Symposium is being held on a biennial basis at ICCBS. The Symposium cover all aspects of contemporary microbial and plant natural products research, and provide a forum to present and discuss the state-of-the-art methodologies and strategies that continue to emerge for isolation, structural elucidation, synthesis of natural products, drug designing, pharmacology, and standardization, efficiency, and safety of natural remedies.