The 10th National Workshop on 'Repair and Maintenance of Scientific, Engineering Equipment in Universities, Research Institutions and Small Scale Industries' was successfully held from October 02-06, 2017, at KazNU, Almaty, Kazakhstan. The workshop was jointly organized by COMSATS, ISESCO, KazNU, Kazakhstan under ISESCO-COMSATS biennium Cooperation Programme for 2016-2017. The event was hosted by Al Farabi Kazakh National University (KazNU), Republic of Kazakhstan, a COMSATS' Centre of Excellence in Kazakhstan.
The event was organized within the framework of EXPO 2017 Astana (Future energy) and the declaration of OIC summit (September 2017, Astana) on the theme "Science, technology, innovations and modernization in the Islamic world". The latter emphasized to "increase the investment in Science, Technology and Innovation (STI) and that the transfer of science and technology is one of the principal ways of accelerating the economic development of developing countries".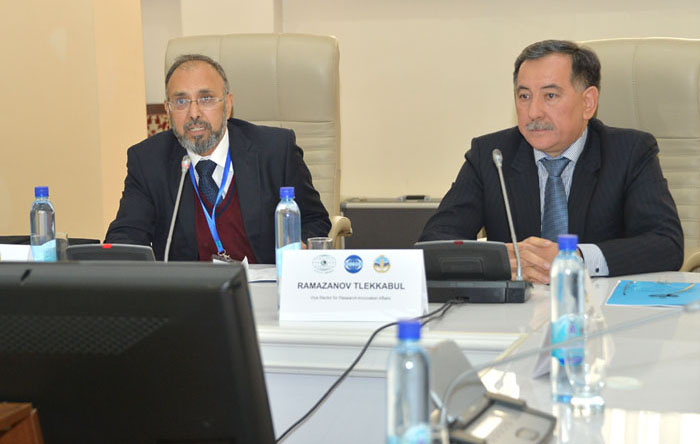 The aim of the series of workshops is to build indigenous capacity of the local scientists and institutions in the developing countries and promoting self-reliance for upkeep of scientific equipment being used in research Labs. More than 60 participants including senior scientists, engineers and technicians from various research institutions and universities of Almaty, and other cities of Kazakhstan, benefited from the training provided by the COMSATS' international experts.
The event was inaugurated on October 02, 2017 by Prof. Dr. Tlekkabul Ramazanov, Vice-Rector for Research & Innovations, Al Farabi Kazakh National University (KazNU), Kazakhstan. The inaugural ceremony was co-chaired by Mr. Tajammul Hussain, Advisor (Programmes), COMSATS. The ceremony was attended by a number of senior officials of KazNU, Ministry of Education and Science, Kazakhstan and other organizations. The distinguished guests included Dr. Zayadan Bolatkhan, Dean of Faculty of the Biology and Biotechnology; Dr. Yerdos Ongarbayev, Dean Faculty of Chemistry and Chemical technology; Dr. Vitaly Salnikov, Dean Faculty of Geography and Environmental Sciences; Dr. Serik Muhambet Zhanov, Head Department of Science and Innovation; Dr. Askar Davletov, Faculty of Chemistry and Chemical Technology; Dr. Bisenbaev Amangeldy, Director, SRI of Biology and Biotechnology Problems; Dr. Skakova Aizhan, SRI of Ecological Problems; Dr. Kalugin Sergei, SRI for New Chemical Technologies and Materials; Dr. Kenesov Bulat, Center of Physico-Chemical Methods of Research and Analysis; Dr. Muratov Mukhit, National Nanotechnology Open Laboratory; Dr.Temirbaev Amirhan, Scientific Technology Park; and Dr. Batyrshev Didar, Laboratory of engineering profile Al-Farabi KazNU. Mr. Nisar Ahmad, Deputy Director (Systems), COMSATS; and the two experts from the Pakistan Council for Scientific and Industrial Research (PCSIR), Mr. Arif Karim and Mr. PirBuksh Khan were also present on the occasion.
In his opening remarks, Dr. Ramazanov commended both ISESCO and COMSATS for organizing this important national workshop and hoped that new techniques taught and learnt during the workshop would enhance the expertise on repair and maintenance of scientific instruments. He also lauded the participants' hands on training provided on various scientific instruments in different labs, and participants making the best use of this opportunity.
Mr. Hussain read out the message of Executive Director COMSATS, Dr. S. M. Junaid Zaidi, who extended gratitude to ISESCO and KazNU, Kazakhstan. Sharing the experience of the previous workshops on the theme, he informed that more than 380 scientists, engineers and technicians have been previously trained on troubleshooting of various instruments in similar 9 workshops. He hoped that the event would facilitate linkages among the participants and experts for future networking and interaction.
Mr. Hussain also read-out the message of H.E. Dr. Abdulaziz Othman Altwaijri, Director General ISESCO. In his message, Dr. Altwaijri noted that it is important to prioritize the maintenance of equipment in order to achieve continuous production and avoid costly interruption in R&D endeavors. He expressed his satisfaction over ISESCO-COMSATS collaboration and pledged to continuously support this partnership for the benefit of common Member States. He also reaffirmed ISESCO's readiness to increase the number of such workshops in the OIC Member States.
The ten technical sessions of the workshop comprised of lectures and hands-on training and troubleshooting and repairing of the scientific equipment in the different labs of KazNU. First half of the day was reserved for lectures/theoretical part of the workshop while in second half of the day, hands-on training and practical demonstrations were conducted to consolidate the learning.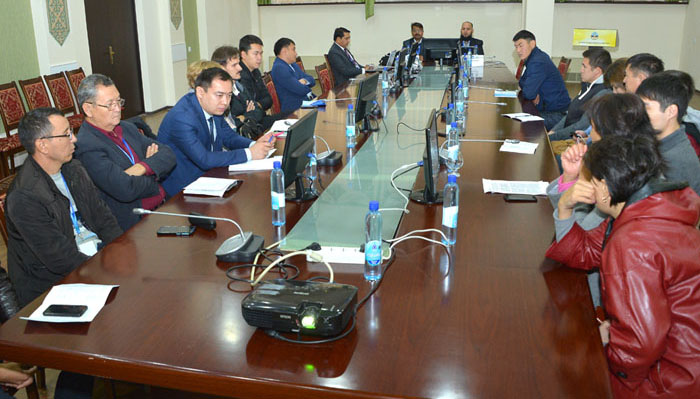 Using the knowledge and techniques learnt during the workshop, the experts and participants successfully repaired/made operational a number of expensive and important equipment in various labs including: Spectrophotometer Lambda 35, PerkinElmer, Auto Distillation Unit (ADU-4), Laboratory Reactor LR-2/ST (Germany) UNIZIK, FTIR Systems CM1201, Liquid Chromatograph, FTIR Systems FSM, Spectrophotometer Shimadzu UV 3600, Highly effective liquid chromatography (HELC) SYCAM, Alloy analyzer (spectrometer) Agilent 725, ICP-MS Agilent 7500 USA, IR-Spectrometer Nicolet IR200, Mass Spectrometer / Chromatech-crystal 5000 and Auto Distillation Unit.
Interactions with professionals working in these labs further added for the trainees' experience.
Speaking at the Concluding Ceremony held on 6th October, 2017, Prof. Dr. Ramazanov and Mr. Hussain delivered a vote of thanks for the experts and participants of the workshop who shared a unique experience of co-working in the labs. They emphasized the need to set up centralized facility and group for repair and maintenance of scientific instruments and for greater collaboration among the developing countries for relevant R&D projects. Both thanked the Organizing Committee members from ISESCO, COMSATS, and KazNU for working hard to make the event a success. They hoped that the interactions and networking during the workshop continue in future.
The participants expressed their gratitude to COMSATS and ISESCO for organizing the workshop which enhanced their existing capacities.
The ceremony concluded with the distribution of certificates by the Prof. Dr. Ramazanov and Mr. Hussain among the experts, participants, and the Organizing Committee members. The workshop has encouraged and promoted self-reliance among Kazakhstani scientists and institutions for indigenously repairing and maintaining their scientific equipment to help them save time, effort and finances involved in outsourcing the task.