Under the framework of COMSATS-UNESCO Technical Cooperation Programme 2020-2021, COMSATS collaborated with its Centre of Excellence in Islamabad, the COMSATS University Islamabad (CUI), and the United Nations Educational, Scientific, and Cultural Organization (UNESCO) to organize a two-day International Seminar on 'Sustainable Technologies in Modern Energy: A Roadmap Towards Green Economy' from 7th – 8th March 2022. The event was aimed to provide interdisciplinary forum to academicians, scientists and early career researchers to deliberate on the importance of energy efficiency, sustainable and renewable energy resources, technologies and applications.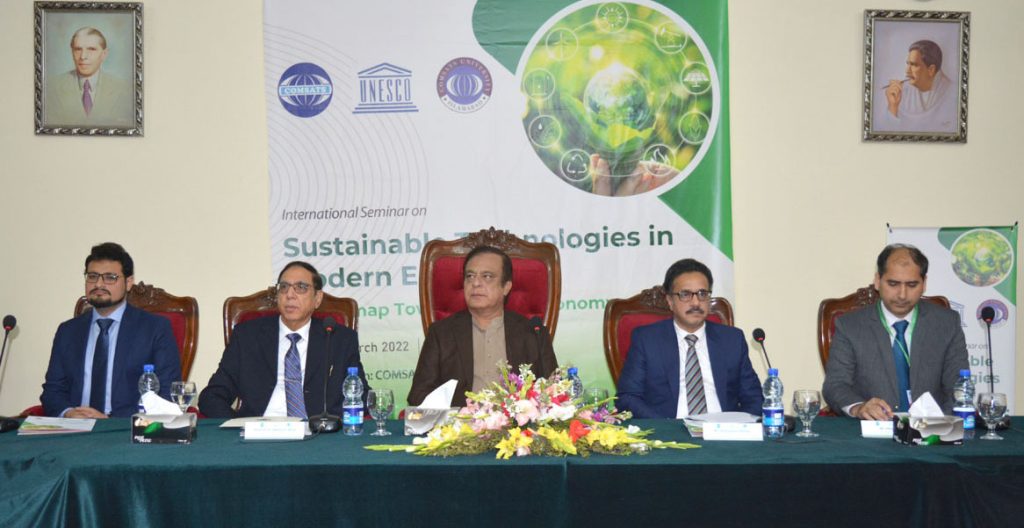 The two-day event was inaugurated by H.E. Mr. Shibli Faraz, Federal Minister for Science and Technology, Government of Pakistan, on 7th March 2022, in a ceremony hosted at the premises of Pakistan Academy of Sciences (PAS), Islamabad.
In his welcome speech, Rector CUI, Prof. Dr. Muhammad T. Afzal, offered his institution's support in setting up Pakistan's first Fuel Cell Research Institute to spearhead development of fuel cell technology under the Government's knowledge economy initiative. He pointed out that more research and development is needed in grid technology to bring it in line with modern energy needs, which has a huge potential of drawing investors in smart grids. "A smart grid", said Prof, Afzal, "can help reduce greenhouse gas emissions by up to 211 million metric tons and is much more reliable than a traditional grid". He appreciated the Government of Pakistan's growing interest and sensibility in this direction.
Speaking on the occasion, Mr. Syed Junaid Akhlaq, Secretary General Pakistan National Commission for UNESCO (PNCU), communicated UNESCO's gratitude to the partner organizations and informed that UNESCO is glad to support this important event being held under 'COMSATS-UNESCO South-South Regional Technical Cooperation Programme'. He was of the view that the advancement of sustainable innovative technologies in modern energy will improve energy security, environment, economy, mechanical manufacturing, construction, transportation, and industry, as well as contribute to the creation of new jobs.
During his virtual participation, Prof. Dr. Ashraf Shaalan brought in the perspective of COMSATS Coordinating Council. As the Council's Chairperson, he lauded CUI for being a valuable resource for the Commission in executing various capacity-building activities in Pakistan and other member countries. He considered nations' abilities to keep up with technological progress and innovation critical for socio-economic growth. He further underscored international organizations' role in South-South and Triangular cooperation in science and technology and appreciated the present joint activity as a good example of the same. "COMSATS is privileged to have excellent working relations with various like-minded institutions, including UNESCO, and is cooperating with them to achieve its noble objectives", said Prof. Shaalan. He informed that COMSATS, over the years, has been working for South-South and Triangular collaboration in science and technology through a variety of initiatives related to capacity-building; collaborative research and development; and exchange of knowledge, experiences, good practices and technological resources among the member countries.
Speaking on the occasion, the Honourable Minister appreciated the role of developing sector and aca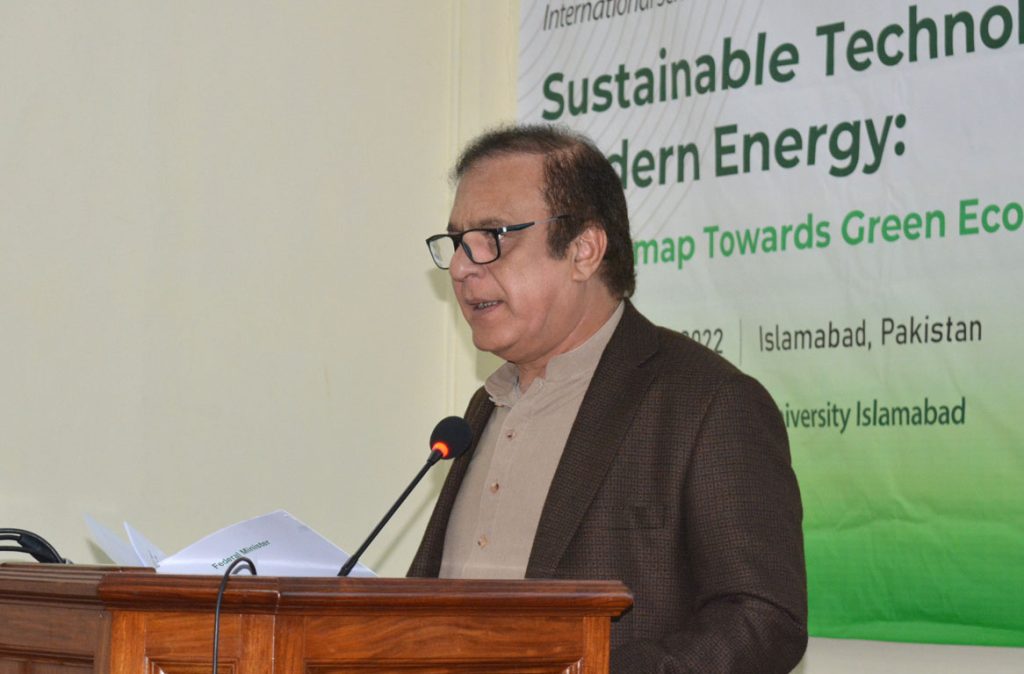 demia in highlighting the issues and initiating key debates on RETs, sustainable development, and green economy. He highlighted the growing and unmet energy needs of Pakistan as the 5th largest population in the world. "The Government of Pakistan intends to pursue this objective of harnessing power from renewable resources with the full participation and collaboration of the private sector." In view of hiking fossil fuel prices, he also emphasized the need for deploying smart technologies, efficient grids to address issues of the demand side to address energy issues in the country.
Mr. Faraz was of the view that small conservations from energy efficient appliances translate into savings on large energy projects. He called on adopting the approach of the Japanese with regard to conservation of energy and modernizing domestic appliances.
The event covered major themes of emerging green technologies for sustainable energy; green ICTs for sustainable development; energy policy implications for sustainable energy growth and development; and balance in energy mix. The talks for the first day bore specific topics pertinent to: digital engineering in Pakistan; Lithium-ion Batteries as Energy Storage Device; Indigenous development of hydropower: RE-based based Distributed Generation; Multifunctional electrode materials for li-ion battery and super capacitors; Sustainable Technologies in Modern Energy; Solar Thermal Air Conditioning Technologies; Materials for Solar Energy and Hydrogen Production.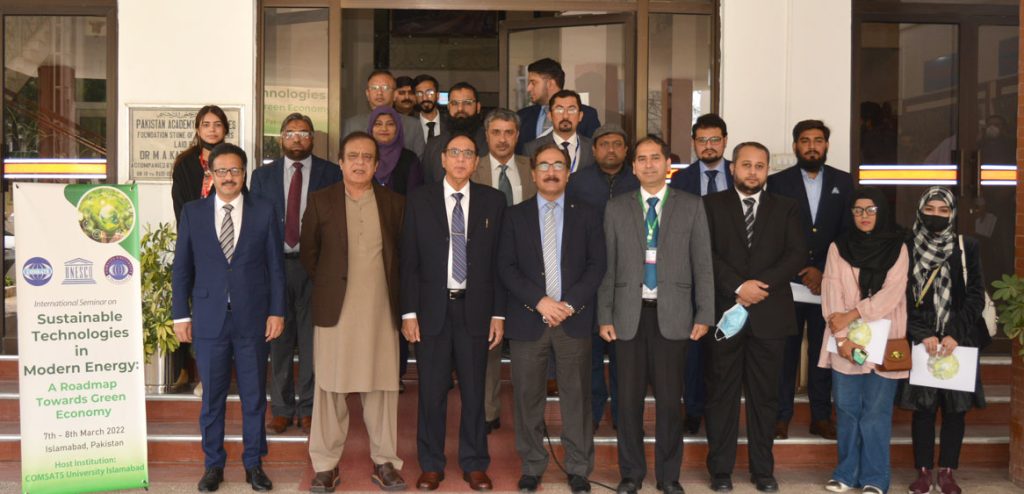 The speakers and experts of the two-day event were from International Islamic University Islamabad (IIUI), Islamabad; University of Lahore (UOL), Lahore; Heavy Mechanical Complex (HMC), Taxila; Ghulam Ishaq Khan Institute of Engineering Sciences and Technology (GIKI), Topi; Pusan National University, South Korea; University of Engineering and Technology (UET), Taxila; Universitat Politècnica de València (UPV), Spain; National University of Sciences and Technology (NUST), Islamabad; Punjab University, Lahore; National Energy Efficiency and Conservation Authority (NEECA), Islamabad; National Electric Power Regulatory Authority (NEPRA), Islamabad; and COMSATS University Islamabad (CUI), Lahore Campus, Lahore.