PROFILE OF THE CHAIRPERSON CONSULTATIVE COMMITTEE
Chaudhry Fawad Hussain assumed the Charge of Pakistan's Ministry for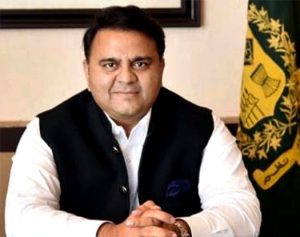 Science and Technology on April 19, 2019. In June, consultations with the Focal ministry of COMSATS in Pakistan, Ministry of S&T, Government of Pakistan, agreed to have the ex-officio Chairpersonship previously held by the Federal Secretary of the ministry, officially transferred to the Minister. By virtue of his position at the Ministry, Mr. Hussain is now the incumbent Chairperson of COMSATS.
A lawyer by profession, Chaudhry's comes from a family with strong political credentials that has played a very significant role in local as well as national politics.
Mr. Hussain was elected Member National Assembly from Jhelum (NA-67) in the general elections 2018 held on July 25. He also won a provincial assembly seat (PP-27) from Jhelum, which he vacated in order to retain his National Assembly seat.
Before assuming the charge of the Ministry of S&T, Mr. Hussain was appointed the Federal Minister for Information & Broadcasting in April 2018. Staunch believer of media freedom and healthy difference of opinion, Mr. Hussain worked towards doing away with political censorship and making national media more independent.
Earlier, being an active member of the current ruling party, Pakistan Tehreek-e-Insaf (PTI), he had been handling media-related issues as Secretary Information. In the past, Mr. Hussain served as Special Assistant to Prime Minister (2012-13).
In his current position as the Minister for S&T, Mr. Hussain aspires to promote science and technology solutions for developmental problems of the country through reinforcement of inter-sectoral coordination and institutional cooperation. Under his leadership, the Ministry of Science and Technology through the establishment of three tasks forces on technology relating to Agriculture, Education and Renewable Energy Technologies (RETs) resolves to promote scientific innovation, R&D for development, science and skill based education in the country.
Mr. Hussain is a strong advocate of Science Diplomacy.