The Ambassador of Arab Republic of Egypt, His Excellency Mr. Ahmed Fadel Yacoub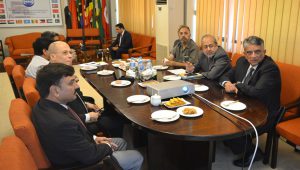 , visited COMSATS Secretariat on July 05, 2018. He has a meeting with Executive Director COMSATS, Dr. S. M. Junaid Zaidi and senior officials of COMSATS.
Dr. Zaidi highlighted to the Ambassador the working relations between Egypt and COMSATS since 1994 and the achievements and future plans of the organization. He also highlighted the triangular collaborations (South-South and North-South), which are being actively sought and the National Research Centre (NRC), Egypt, a Centre of Excellence of COMSATS, is helping the cause.
His Excellency showed interest in COMSATS' flagship project, COMSA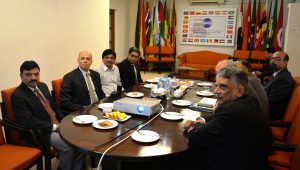 TS University Islamabad (CUI) and its facilities. He also inquired about the number of international students studying at CUI and the scholarships being offered to them. He hoped that Egyptian students would also benefit from the attractive scholarship offer of CUI. Dr. Zaidi explained to His Excellency the mechanism to secure the scholarships. He further explained that a new programme for the diplomatic community is under consideration and necessary approvals are being sought in that regard.
His Excellency informed that a delegation from Arab Academy of Science and Technology is expected to visit Pakistan in September 2018 and that he would ensure their visit to COMSATS Secretariat. The Academy was formed by the Arab League and plays a critical role in policy decisions related to science and technology in the Arab world.
The meeting ended with both the sides pledging enhanced collaborations for the betterment of Global South.